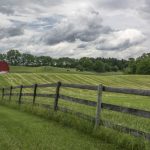 When it comes to ranching, having the right fencing is essential for the safety and security of your livestock, as well as the protection of your property. In this comprehensive guide, we will explore different types of fencing options for ranches, highlighting their benefits, considerations, and suitability for various purposes. Whether you need to contain livestock, delineate property boundaries, or enhance security, this guide will help you make informed decisions when it comes to fencing your ranch.
1. Traditional Barbed Wire Fencing:
Barbed wire fencing has long been a staple in ranching due to its affordability and widespread availability. It is an effective choice for containing cattle and large animals. However, it may not be suitable for smaller animals as they may get stuck or injured in the barbs. Regular maintenance and repairs are essential to prevent sagging and ensure the structural integrity of barbed wire fences.
2. Electric Fencing:
Electric fencing offers the advantage of flexibility and easy installation. It can be used as a stand-alone fence or a complement to other types of fencing. Electric wires or tapes deliver a harmless electric shock when animals come into contact, ensuring containment. Electric fencing is easily customizable, low maintenance, and effective for preserving pastures or deterring predators. However, a reliable power source is required, and occasional repairs and inspections are necessary to ensure functionality.
3. Woven Wire Fencing:
Woven wire fences, also known as field fences, are popular for their versatility and durability. They consist of wire mesh with horizontal and vertical wires woven together. This type of fencing is suitable for various livestock, from large animals to small, and can effectively withstand pressure from animals leaning, pushing, or rubbing against it. Woven wire fences offer excellent visibility, ventilation, and can be equipped with additional elements like barbed wire or electric wires for added security.
4. Pipe Fencing:
Pipe fencing is a sturdy and aesthetically pleasing option that provides excellent containment and durability. It utilizes steel pipes as posts and horizontal rails, creating a strong barrier that can withstand heavy pressure. Pipe fences are ideal for horses as they prevent accidental injuries caused by wires or sharp edges. While more expensive than other fencing types, pipe fencing requires minimal maintenance, making it a long-term investment for ranch owners.
5. High-Tensile Wire Fencing:
High-tensile wire fencing is a cost-effective option that offers strength, flexibility, and low maintenance. It utilizes high-tensile wire, which is stronger and more resilient than traditional barbed wire. This type of fencing is suitable for containing various livestock and can be used for large areas. It requires proper tensioning and regular inspections to maintain its integrity. High-tensile wire fencing is ideal for cost-conscious ranchers who prioritize durability without compromising functionality.
6. Split Rail Fencing:
Split rail fencing, often seen in rural landscapes, adds a rustic charm to ranches while providing a boundary for livestock. It is constructed with wooden posts and rails that interlock or lay horizontally along the fence line. This type of fencing is less secure for containing smaller animals, but it works well for defining property boundaries. Split rail fences require periodic inspections and maintenance to address rot, warping, or loose rails. They are popular for decorative purposes or for indicating non-livestock areas on the ranch.
7. Deer Fencing:
If your ranch is in an area with a significant deer population, installing specialized deer fencing can protect your crops and landscape. These fences are typically made of high-tensile wire mesh or polypropylene materials and stand at least 8 feet tall to deter deer from jumping over. Proper maintenance is necessary to prevent sagging or animals digging under the fence.
Conclusion:
Selecting the right fencing for your ranch is crucial for the safety and security of your livestock, the preservation of your property, and the overall efficiency of your operations. Consider factors such as the type of livestock, desired level of containment, budget, maintenance requirements, and local regulations when choosing the appropriate fencing option for your ranch. Whether it's barbed wire for containing large animals, electric fencing for added security, or split rail fencing for decorative purposes, this comprehensive guide has provided insights to help you make informed decisions and fence your ranch right.
Got Questions? Let Us Help!
Welcome to Guadalupe Mountain Fencing LLC! We're proud to be your trusted name in top-quality fencing throughout southern New Mexico and western Texas since 2010. Here at Guadalupe Mountain Fencing LLC, we provide commercial, residential, farm, and ranch fencing. Whether you're in need of barbed wire, piped, chain link, high, net wire, or oil field fencing, we can get the job done for you. We're licensed and insured, and our expert has over 20 years of experience in the industry. Call us today for all of your fencing needs!