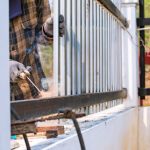 When it comes to enhancing the aesthetic appeal of your property, a well-maintained gate plays a crucial role. A gate serves as the first point of contact for visitors, leaving a lasting impression. However, over time, gates can deteriorate due to various factors such as weather conditions, wear and tear, or accidents. Damaged gates not only compromise the security of your property but also diminish its curb appeal. In such cases, professional gate repair services offer expert solutions to restore your gate's functionality and preserve your property's first impression.
1. Uncovering the Importance of Gate Repair:
Curb Appeal and First Impressions:
The appearance of your property's gate is the first thing visitors notice when approaching your premises. A damaged gate with broken parts or rust not only detracts from the overall appeal but also raises concerns about the property's maintenance. A well-maintained gate, on the other hand, creates a positive first impression, conveying a sense of care and attention to detail.
Security and Safety:
Beyond aesthetics, gates are essential for ensuring the security and safety of your property. A damaged gate may not close or lock properly, compromising the premises' security and exposing it to potential threats. Timely gate repairs resolve these issues, restoring the necessary security measures to protect your property from intruders and offering peace of mind.
2. Common Gate Problems:
Mechanical Failures:
Mechanical failures, such as broken hinges, faulty motors, or damaged tracks, can render your gate inoperable. These problems often result from regular wear and tear or poor maintenance. Professional gate repair services have the expertise to identify and fix these mechanical issues efficiently, restoring your gate's smooth operation.
Structural Damages:
Accidents, severe weather conditions, or vandalism can cause structural damages to your gate. Bent or dented metal, cracked wood, or damaged panels not only compromise the gate's functionality but also diminish its aesthetic appeal. Expert technicians specializing in gate repair can assess the extent of the damage and provide precise solutions to restore your gate's structural integrity.
3. The Importance of Professional Gate Repair Services:
Expertise and Experience:
Gate repair is a specialized field that requires technical know-how and experience. Professional gate repair services possess the required expertise to assess, diagnose, and repair gate problems efficiently. They utilize the latest tools and techniques, ensuring comprehensive and accurate repairs while avoiding further damage.
Cost-Effectiveness and Time Efficiency:
While DIY gate repairs may seem cost-effective initially, they often lead to more extensive issues if not executed correctly. Professional gate repair services provide cost-effective solutions by addressing the root cause of the problem, preventing future breakdowns, and saving you from unnecessary expenses. Additionally, their expertise allows them to complete the repairs in a timely manner, minimizing disruption to your daily routine.
Preventive Maintenance:
Professional gate repair services not only fix existing gate issues but also offer preventive maintenance to prolong the lifespan of your gate. Regular inspections, lubrication of mechanical parts, and timely repairs of minor damages can prevent major breakdowns, ensuring that your gate remains in top condition.
4. Finding Reliable Gate Repair Services:
Recommendations and Referrals:
Start your search for reliable gate repair services by seeking recommendations from friends, family, or neighbors who have had positive experiences with such services. Their firsthand experiences can help you gauge the quality of service and professionalism of the repair technicians.
Online Reviews and Ratings:
In the digital age, online reviews and ratings provide valuable insights into the reputation and reliability of gate repair services. Websites, social media platforms, and specialized review platforms are excellent resources to evaluate the experiences of past customers. Look for companies with consistently positive reviews and high ratings.
Professional Accreditation and Licensing:
Ensure that the gate repair service you choose holds the necessary professional accreditations and licensing. These certifications are indicators of their commitment to quality, adherence to safety standards, and compliance with local regulations. Choosing a licensed and accredited service provider guarantees that you will receive reliable and trustworthy gate repair solutions.
Summary:
Preserving your property's first impression requires regular maintenance and professional gate repair services. A well-maintained gate not only enhances the visual appeal of your premises but also ensures the security and safety of your property. With their expertise, experience, and commitment to quality, professional gate repair services offer expert solutions to restore the functionality and beauty of your gate, enabling you to leave a lasting positive impression on visitors. So, don't let a damaged gate compromise your property's appeal; invest in reliable gate repair services today.
Need Fence Contractors in Carlsbad, NM?
Welcome to Guadalupe Mountain Fencing LLC! We're proud to be your trusted name in top-quality fencing throughout southern New Mexico and western Texas since 2010. Here at Guadalupe Mountain Fencing LLC, we provide commercial, residential, farm, and ranch fencing. Whether you're in need of barbed wire, piped, chain link, high, net wire, or oil field fencing, we can get the job done for you. We're licensed and insured, and our expert has over 20 years of experience in the industry. Call us today for all of your fencing needs!