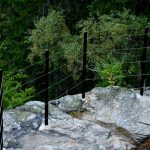 Living in close proximity to wildlife can be both exciting and challenging. While observing wildlife can be a delight, having them invade your property and cause damage can be a cause for concern. In this blog post, we will explore the benefits of using pipe and cable fencing to deter wildlife effectively, helping you protect your property and maintain harmony with the natural world.
Understanding Wildlife Behavior:
Before diving into the solutions, it's important to understand wildlife behavior and the factors that attract them to your property. Animals are often attracted to food, water, and shelter sources, which might be readily available on your property. It's important to identify and address these factors to reduce wildlife intrusion. Once you've done this, pipe and cable fencing can be an effective deterrent to prevent further incursions.
Benefits of Pipe and Cable Fencing:
1. Versatility:
Pipe and cable fencing is a highly versatile solution that can be customized to suit your specific needs. Whether you're dealing with deer, rabbits, raccoons, or any other type of wildlife, this fencing system can be tailored to deter the particular animals that pose a threat to your property. It can be adapted to create a barrier around your entire property or specific areas such as gardens, flowerbeds, or crops.
2. Durability:
One of the key advantages of pipe and cable fencing is its durability. It is typically made of galvanized steel, which is resistant to corrosion and can withstand harsh weather conditions. This fencing solution is built to last, providing long-term protection against wildlife intrusions. Once properly installed, it requires minimal maintenance, saving you time and effort in the long run.
3. Visibility:
Unlike solid wood or metal fences, pipe and cable fencing offers excellent visibility. This is especially beneficial if you still want to enjoy the presence of wildlife from a distance while protecting your property. The open design allows you to observe and appreciate the animals without compromising their safety or your property's security.
4. Cost-effective:
Pipe and cable fencing is a cost-effective solution compared to alternatives such as electric or solid wood fences. The materials used are relatively affordable, and the installation process is straightforward, making it a budget-friendly option for homeowners and property owners. Moreover, its durability and low-maintenance nature contribute to long-term cost savings.
5. Environmentally Friendly:
When considering wildlife deterrence, it's important to prioritize eco-friendly solutions. Pipe and cable fencing is environmentally friendly as it does not harm animals or disrupt their natural habitats. By providing a physical barrier, it encourages wildlife to seek alternative, natural habitats, reducing potential conflicts between humans and animals.
Proper Installation and Maintenance:
To ensure the effectiveness of your pipe and cable fencing, it's essential to install it correctly and perform regular maintenance. Here are some tips to follow:
1. Height and Placement:
Determine the appropriate height of the fence based on the target wildlife species. For example, if you want to deter deer, a fence should be at least 8 feet tall. Additionally, consider angling the fence outward at a 45-degree angle to prevent animals from jumping over it.
2. Fence Integrity:
Regularly inspect the fence for any damages or weak points. Animals can exploit even the smallest openings, so it's important to promptly repair any damage to maintain the fence's effectiveness. Regularly check for loose connectors, sagging sections, or bent pipes that may compromise the barrier.
3. Vegetation Control:
Maintain clear space around the fence by trimming vegetation and removing tall grass or shrubs near the perimeter. This helps eliminate potential stepping stones or hiding spots for wildlife to exploit and ensures the fence's effectiveness.
Conclusion:
Dealing with wildlife intrusions can be a frustrating and challenging experience. However, by implementing a well-designed and properly installed pipe and cable fencing system, you can effectively deter wildlife and protect your property. The versatility, durability, visibility, cost-effectiveness, and environmentally friendly nature of this fencing solution make it an excellent choice for homeowners and property owners seeking a harmonious relationship with wildlife. Remember, prevention is key when it comes to deterring wildlife.
Got Questions? Let Us Help!
Welcome to Guadalupe Mountain Fencing LLC! We're proud to be your trusted name in top-quality fencing throughout southern New Mexico and western Texas since 2010. Here at Guadalupe Mountain Fencing LLC, we provide commercial, residential, farm, and ranch fencing. Whether you're in need of barbed wire, piped, chain link, high, net wire, or oil field fencing, we can get the job done for you. We're licensed and insured, and our expert has over 20 years of experience in the industry. Call us today for all of your fencing needs!