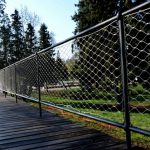 When it comes to protecting your livestock and crops, choosing the right fencing option is crucial. There are several types of fencing available, each offering its own set of advantages and disadvantages. However, in recent years, pipe and cable fencing has gained significant popularity among farmers and ranchers. This fencing option combines durability, versatility, and aesthetics to provide an excellent choice for livestock and farming. In this blog post, we will discuss why pipe and cable fencing is a versatile and beautiful option for your agricultural needs.
1. Durability and Strength
The primary concern of any farmer or rancher is to keep their livestock securely contained within their designated areas. Pipe and cable fencing offers exceptional durability and strength, ensuring the safety of your animals. The main framework of this type of fencing consists of heavy-duty steel pipes, which are resistant to impact, bending, and weather conditions. This robust structure helps prevent breakage and the potential escape of livestock or intrusion of predators.
2. Low Maintenance Requirements
One of the major advantages of pipe and cable fencing is its minimal maintenance requirements. Unlike other fencing options such as wood or barbed wire, this type of fencing does not require frequent painting, staining, or repairs. The steel pipes used in this fencing are resistant to rot, termites, and other insects, eliminating the need for regular maintenance. Additionally, the cables used in this fencing are highly durable and can withstand extreme tension, reducing the risk of sagging or breaking.
3. Versatility in Design
Pipe and cable fencing offers immense versatility in terms of design, allowing farmers and ranchers to customize their fencing to suit their specific needs. The steel pipes can be cut and welded to create various shapes and sizes, accommodating different livestock species or specific areas on the farm. Moreover, the cables used in this fencing can be adjusted in tension, providing flexibility for sloped terrain or uneven ground. This versatility in design ensures that the fencing seamlessly integrates into the surrounding landscape while providing adequate security.
4. Safety for Livestock
The well-being of livestock is of paramount importance to farmers and ranchers. Pipe and cable fencing helps promote their safety by minimizing the risk of injuries. Unlike traditional barbed wire, which poses a danger to both humans and animals, the smooth surface of steel pipes and cables prevents cuts and lacerations. Furthermore, the high visibility of this type of fencing helps reduce the likelihood of accidental collisions by providing a clear barrier that livestock can easily see.
5. Aesthetically Pleasing Appearance
Beyond its practical benefits, pipe and cable fencing also adds an element of beauty to your farm or ranch. The sleek and modern design of the steel pipes combined with the resilient cables creates an aesthetically pleasing appearance. This type of fencing can greatly enhance the overall look of your property, making it more visually appealing to visitors, potential buyers, or even just yourself.
Summary
Pipe and cable fencing offers a multitude of benefits that make it an ideal choice for farmers and ranchers. Its durability, low maintenance requirements, versatility in design, safety, and aesthetic appeal set it apart from other fencing options. By investing in this type of fencing, you can rest assured that your livestock are secure, your crops are protected, and your property looks visually appealing. So, why settle for less when you can have both functionality and beauty in your agricultural fencing? Choose pipe and cable fencing for a versatile and beautiful option that meets all your farming and livestock needs.
Need Fence Contractors in Carlsbad, NM?
Welcome to Guadalupe Mountain Fencing LLC! We're proud to be your trusted name in top-quality fencing throughout southern New Mexico and western Texas since 2010. Here at Guadalupe Mountain Fencing LLC, we provide commercial, residential, farm, and ranch fencing. Whether you're in need of barbed wire, piped, chain link, high, net wire, or oil field fencing, we can get the job done for you. We're licensed and insured, and our expert has over 20 years of experience in the industry. Call us today for all of your fencing needs!